Press
13. 06. 2010
NEOBAROQUE, POST-MODERN AND ROMANTIC FARE AS WELL AS NEW DISCOVERIES – THE BIEL SYMPHONY ORCHESTRA PERFORMED AN OUTSTANDINGLY CONCEIVED PROGRAM AT THE FELDKIRCH FESTIVAL
Clarity creates impulsive power
As part of the Feldkirch Festival, the Symphony Orchestra Biel made a guest appearance conducted by Thomas Rösner at the Montforthaus in Feldkirch. The program probably surprised many visitors, since it featured a work by Galina Ustvolskaya which was largely unknown until then. Four soloists offered convincing interpretations. Michaela Paetsch and Daniel Kobyliansky were the soloists in Schnittke's work, Alexander Doroshkevich offered fascinating playing in Alexander Glazunov's Saxophone Concerto and Anika Vavic reaped storms of enthusiasm with her interpretation of Galina Ustvolskaya's Piano Concerto.
... After Stravinsky's none-too-spectacular "Concerto in D", Galina Ustvolskaya's Piano Concerto followed. The composer had retreated from the Soviet authorities into an inner emigration; her works have been featured occasionally during recent years at festivals of new music. The composer shaped her music from a completely individual creative will. Her clear musical statements and the impressive way in which she demonstrates the power of the tonal relations lends Ustvolskaya's music an archaic impact.
Anika Vavic and the Symphony Orchestra Biel interpreted the work energetically. However, they never ignored the moments of release and the lyrical passages, so that the music filling the space was easy to grasp and immediately effective. The audience gave the work an enthusiastic reception and applauded frenetically. Thomas Rösler's immediate and well thought-out diction contributed much to the work's successful interpretation.
Translation : Alexa Nieschlag
slika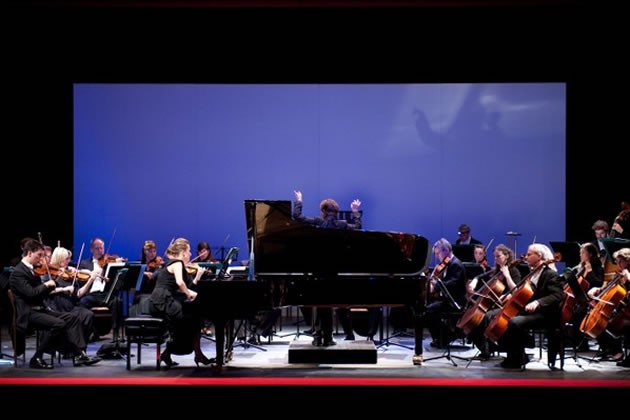 Das Sinfonie Orchester Biel und Anika Vavic hinterließen eine nachhaltige Wirkung ©Feldkirch Festival
[ original article ]