Press
23. 05. 2012
Wonderful Concert Evening in Knittelfeld
Mozart, Beethoven and Brahms – with such wonderful sounds, the Sinfonietta Baden enchanted its audience on Tuesday at Knittelfeld's Kulturhaus.
Großer Applaus für Anika Vavic und Thomas Rösner mit der Sinfoniette Baden.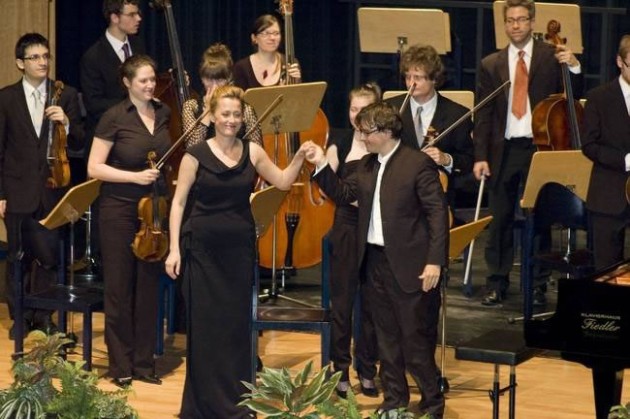 Great applause for Anika Vavic and Thomas Rösner with the Sinfonietta Baden.
The Paris Symphony KV 297 provided a festive opening for the evening. It has only three movements, but boasts a rich instrumentation.
Afterwards, the piano soloist Anika Vavic entered the stage. Mariss Jansons, Zubin Mehta and Seiji Ozawa have praised the Belgrade-born pianist's extraordinary talent, brilliant technique, passionate playing, and a profound understanding of the classical style. Under her hands, Beethoven's Piano Concerto No. 2 sounded like fresh air and the purest water.
After the intermission, Johannes Brahms was the featured composer. Even in the first movement, one had the feeling of standing in a wind-swept meadow of flowers. The concert evening with the guests from Lower Austria left a pleasant impression.
[ original article ]
Translation: Alexa Nieschlag